Zucchini Quinoa Linwoods Burgers
– 280 grams of cold quinoa
– 2 tablespoons of flax seeds, Linwoods Q10 walnuts
– 90 ml of water
40 grams of buckwheat or oatmeal flour
– ½ to medium zucchini, finely grated
– ½ teaspoon garlic powder
– ½ teaspoon of cumin
– 40 grams of toasted sunflower seeds
– 15 grams of liquid tahini
– ½ Himalayan red rock salt
At your service:
– 3 tablespoons of beet juice
– Red salt to taste
– Tomatoes
– Lettuce
– 4 cups of choice
– Natural or non-dairy yogurt
Mix Linwoods flaxseeds with water and leave for 15 minutes until it has an "egg" consistency.
Mix all the ingredients in a large bowl. Divide into four equal balls, then flatten on the palm of your hand to make patties.
You can bake in the oven for 20 minutes or fry/bake/bake for 5 minutes on each side. If you are using an oven, preheat to 180C (350F).
Mix beet juice and yogurt of your choice. Place the beetroot yogurt on the bottom of the buns, top with the quinoa burgers, lettuce, thinly sliced ​​cucumber and top of the bun.
They keep well in the fridge for up to three days in an airtight container, or you can make them the night before and then cook; they only take a few more minutes to heat up.
tuna burgers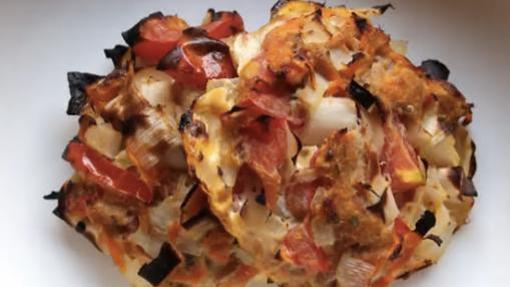 – 1/2 cup sweet onion
– 1 tomato
– 1/3 cup
– 1 carrot
– 1-2 eggs
– 1 natural tuna
– Oregano, salt and onion powder
– Wash, peel and chop the leek, onion, tomato, and grate the carrot.
– We mix everything in a bowl together with tuna, beaten egg Season with salt and spices to taste.
– We are like Burger with the dough and put it on a tray with baking paper. Finally, we bake the hamburgers for 10′ at 180ºC.
Linwoods Quinoa Chickpea Veggie Burgers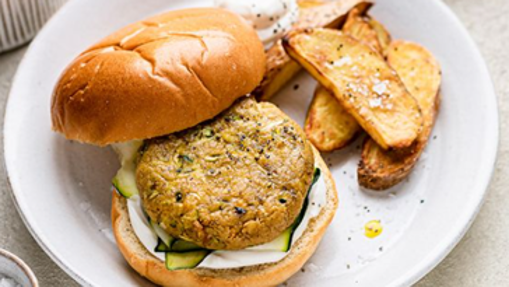 – 1 tablespoon Linwoods ground flax
– 3 tablespoons of water
– 1 cup of chickpeas, drained
– 1 teaspoon of cumin
– 1 teaspoon finely chopped red pepper
– ¼ teaspoon ground ginger
– ½ teaspoon coriander
– ¼ teaspoon garlic powder
– ¼ teaspoon onion powder
– 2 tablespoons of tahini
– 1 tablespoon of soy sauce or tamari
– 1 tablespoon lemon juice
– 1 heaping tablespoon chopped fresh parsley
– 120 grams of cooked quinoa
Mix Linwoods ground flax and water in a bowl and leave for 5 minutes.
Drain and rinse the chickpeas. Mix with cumin, coriander, garlic and onion powder, tahini, soy sauce and lemon juice until you get a coarse paste.
Mix the thick pasta with parsley and quinoa. Add the flax mixture and mix well to combine.
Divide the mixture into 4 equal portions. They can be cooked in a pan for 5 to 6 minutes per side, in the oven for 20 minutes, or in an air fryer for 12 to 15 minutes at 180°C (350°F).
Serve with vegan mayonnaise or dairy-free yogurt, spring onion, red onion, and some chili.
vegan tofu burger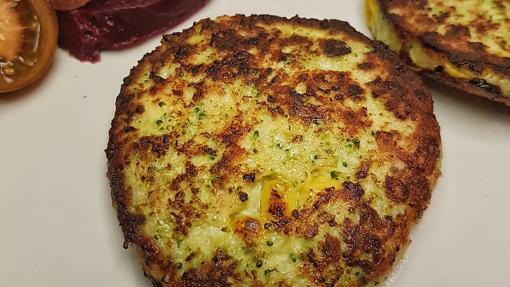 These @israel_realfooding potato, bean and broccoli burgers don't need to rest and last 1-2 days in the fridge without cooking. No flour or eggs.
– 100 grams of raw broccoli
– 300 grams of boiled potatoes
– 200 grams of tofu
– Corn
– salt, EVOO, garlic powder and curry
First we grate the wood of the broccoli raw, the body and stems will be reserved for another recipe. With a fork, crumble the frozen tofu until it is completely granulated.
Mash the cooked potatoes with a fork, splash of EVOO and salt until it becomes a puree.
Sauté the crumbled tofu with the spices in a little oil for 5 minutes. Add the grated broccoli and corn to the pan and cook for 3′, stirring so it doesn't stick. Separate and drain well the liquid they have released.
Mix with the mashed potatoes until everything is well mixed. Many recipes use wheat flour or oats to agglomerate, but I don't like the idea of ​​raw flour that remains or the end it looks like a huge Gnocci, I didn't give anything and I don't miss him
With the help of a plating ring, we make shapes of hamburgers on parchment paper cutouts, compacted well with a spoon, this will make it easier for us to put them on the grill hot without them falling apart (when we put them. in a pan with hot oil remove the paper). Only the difficulty will turn them over. For this we will make them in batches of one or two so that we have enough space to maneuver and we will use a silicone spatula that lifts them completely so that they do not break.
beetroot burger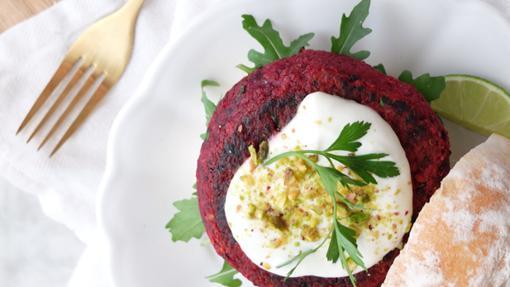 Catalina Prieto says that first you must pre-heat the oven to 200 ºC. Cut the beet and potatoes in half and bake for 30-35 minutes until tender. Remove, let cool and peel. When the beet and potatoes are cooked, wash, peel and finely chop the onion, garlic and leek and brown them in a pan with 2 tbsp of olive oil, until tender.
In the food processor add roasted beetroot and sweet potato, add cooked lentils and cooked quinoa, sautéed vegetables, oat flakes, flour, parsley, salt and pepper to taste.
Pulse until they are crushed but not completely, those are not too big to be satisfied.
Divide the mixture into 6 patties (empanadas) and cook on the grill (5 minutes on each side).
eat a burger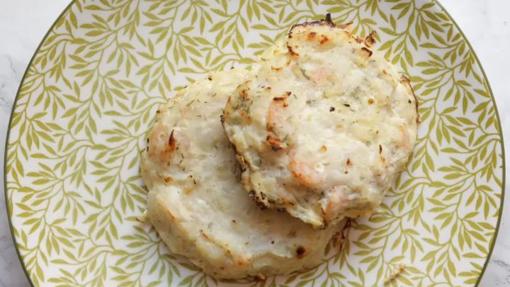 – 250 grams of chicken
– 100 grams of prawns
– 1 sweet onion
– 1 egg white
– Dill
– garlic powder
– Salt
Chop the onion and let it. We also chop the hake and prawns, and let.
Next, beat the egg with garlic, dill and a pinch of salt. In a bowl mix all the ingredients.
We take part of the dough and make them into hamburgers. We put it in a baking dish with foil and bake for 10 minutes on each side at 180ºC. If you want, you can make them in a pot.
Vegetable burgers from @realfooding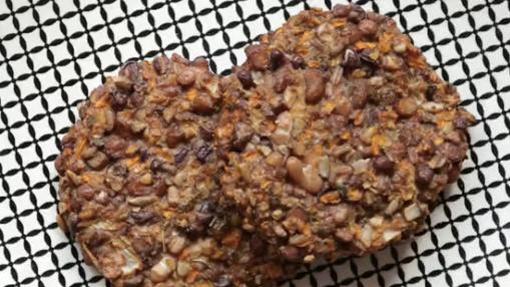 – 300 grams of dry legumes
– 1 carrot
– 1/2 cup sweet onion
– 30 grams of walnuts
– 45 grams of seeds (sunflower, pumpkin and pine nuts)
– 2 eggs or 2 vegan eggs (2 tbsp flax + 6 water)
– 1 tablespoon of oregano
– 1 tablespoon onion powder
– 1 teaspoon of salt
– The director of @realfooding says that you need to chop the onion, carrot, garlic, nuts and seeds first with the help of a mincer.
– Mix all the ingredients in a bowl. Add the beaten eggs and season to taste. If we use a vegan egg, mix the ground flax with water and let it rest for 5 minutes until it takes a gelatinous consistency.
– We refrigerate the mixture for approximately 30 minutes so that it takes a uniform time.
– Preheat the oven to 180ºC and start making the dough into hamburgers, put it on a tray lined with foil.
– Bake for 10-12 minutes, turn them so they cook on both sides. We can also make them in a frying pan over low heat, about 5′ on each side.