Karlos Arguiñano today presents a wonderful recipe: Russian turkey fillets with caramelized onions. The dish is prepared in two places, on the one hand caramelized onions with Modena vinegar; and on the other hand, Russian steaks, breaded with eggs and breadcrumbs.
This recipe is definitely for the whole family, so go ahead and try it!
Ingredients (4 people):
600 g minced turkey meat
2 garlic
70 ml of Modena vinegar
50 g of honey
2 eggs
1 teaspoon garlic powder
1 teaspoon of oregano
40 g of breadcrumbs
flour and beaten egg (for coating)
add virgin olive oil
Salt
Pepper
parsley
Explanation
Julienne onions and fry them in a frying pan with 3 tablespoons of oil. Season and cook for 15-20 minutes. Add honey and Modena vinegar. Cook them over heat for 20 minutes.
Place the minced meat in a bowl, season with salt and pepper and add garlic powder, oregano, breadcrumbs and 2 eggs. Mix well and knead until you get a homogeneous dough.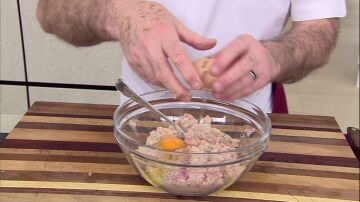 Divide the dough into 8 parts, round them and flatten them until you get 8 Russian steaks.
Pass them through flour and beaten eggs, and fry them in a pan with oil. Remove and drain on a plate lined with kitchen paper.
Serve on each plate 2 fillets and a portion of caramelized onions. Garnish the plate with some parsley leaves.
The recommendation of Arguiñano
Advice:
To caramelize onions, anything can be used, although the most appropriate is the white onion because it is rich in sugar and will caramelize faster.