Do not lie, although hamburgers are often considered unhealthy food, these words do not have all the reasons when we refer to them in their home style, using natural and special ingredients of the best products. The chicken and cheese burgers that we will make today are a clear example that you can eat rich and healthy in equal measure.
For this, it is important to take into account a few points in order to check the result of the recipe: the cheese that we will use to fill the chicken burgers will be one with a high percentage of fat, such as gouda or cheddar. . With these cheeses we will get the melting inside that we are looking for so much in hamburger products. On the other hand, the use of spices is important to give the meat personality and improve its flavor and, last but not least, the finish of the hamburger, it is important not to overdo it so that the meat is still juicy.
drug information
Preparation time: 10 minutes

cooking time: 10 minutes

all the time: 20 minutes

part

Category: main dish

type of food: around the world

Calories per serving (kcal)one: 164
Ingredients for a chicken and cheese burger for 4 people
400 g of minced chicken breast

A pinch of sweet paprika

A pinch of dehydrated onion

A pinch of granulated garlic

A pinch of dried thyme

A few leaves of fresh parsley

3 pieces of gouda cheese

10 ml of extravirgin olive oil

A pinch of ground black pepper

a pinch of salt
@Latoneira
How to make cheese stuffed chicken burger
The first thing we will do is season 400 g of minced chicken with a pinch of each of: sweet paprika, dehydrated onion, granulated garlic and dry thyme. We also add leaves of fresh parsley, which we will have previously washed, dried and finely chopped.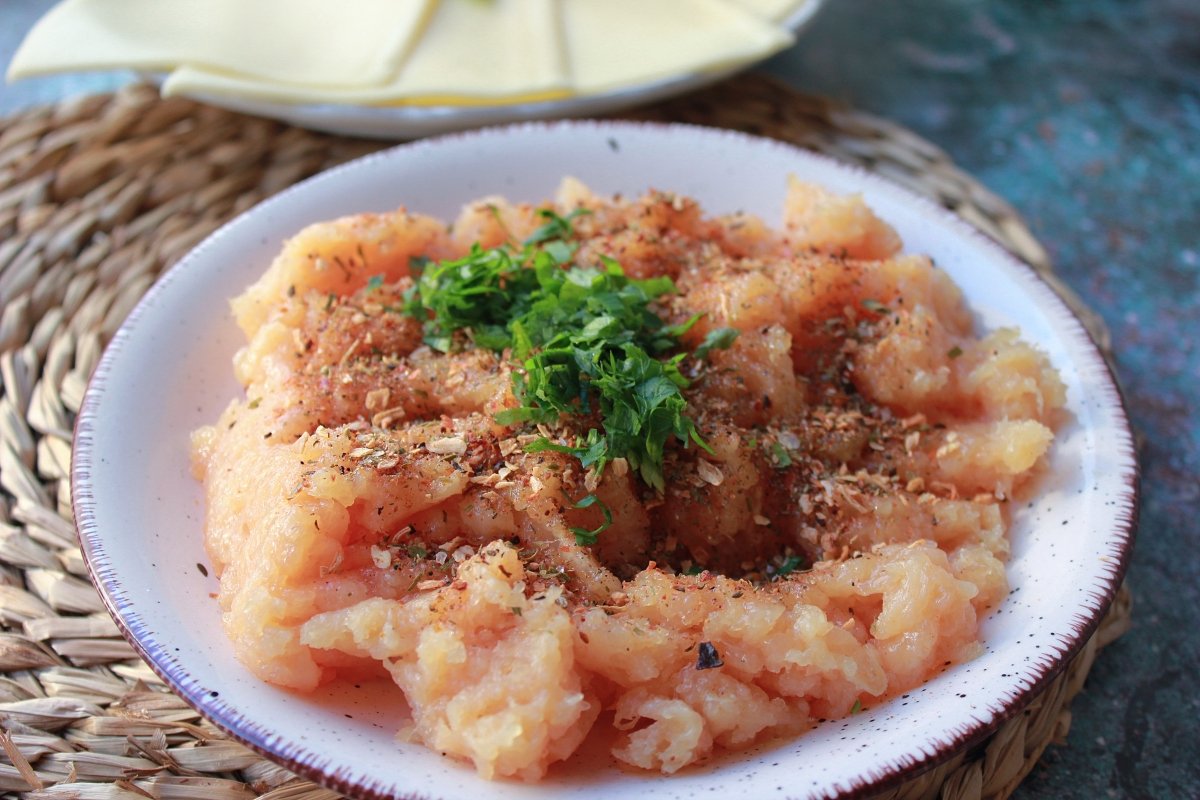 @Latoneira
Mix until all the ingredients of the hamburger meat are mixed together and divide into 4 equal parts to form them into balls.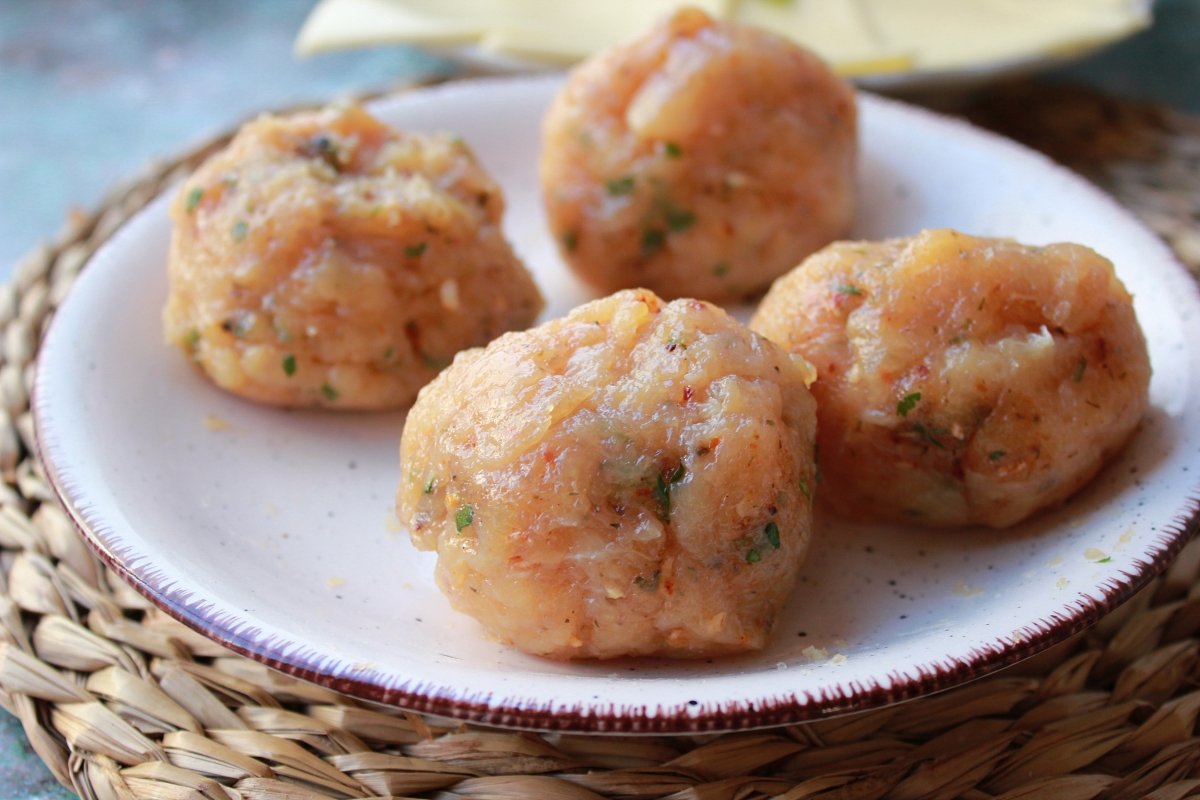 @Latoneira
We overlap 3 pieces of gouda cheese, one on top of the other, and divide into 4 small pieces of cheese that make the hamburgers.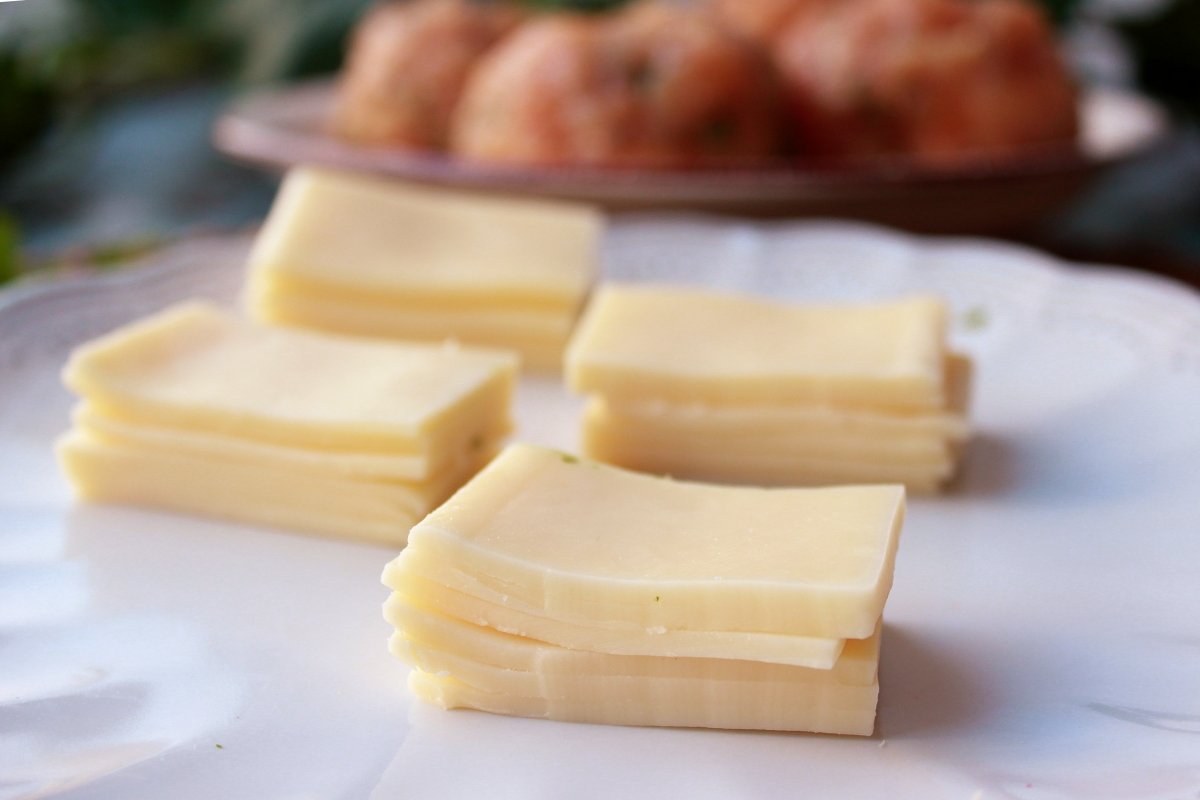 @Latoneira
Flatten each of the meat balls into a disc about 6-7 centimeters in diameter and put the cheese cube in place.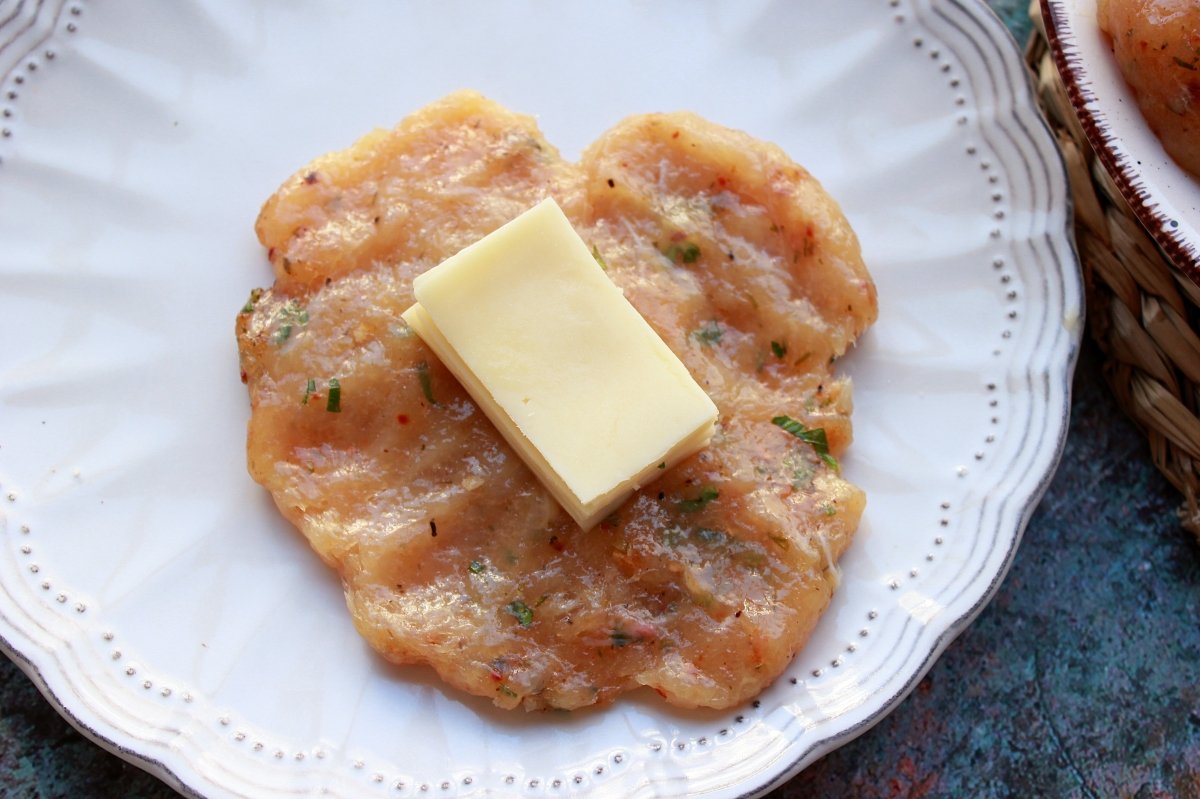 @Latoneira
We wrap the cheese taco with a disc of minced meat until it is completely closed, giving it a flattened shape. We do the same with the meat and the remaining cheese.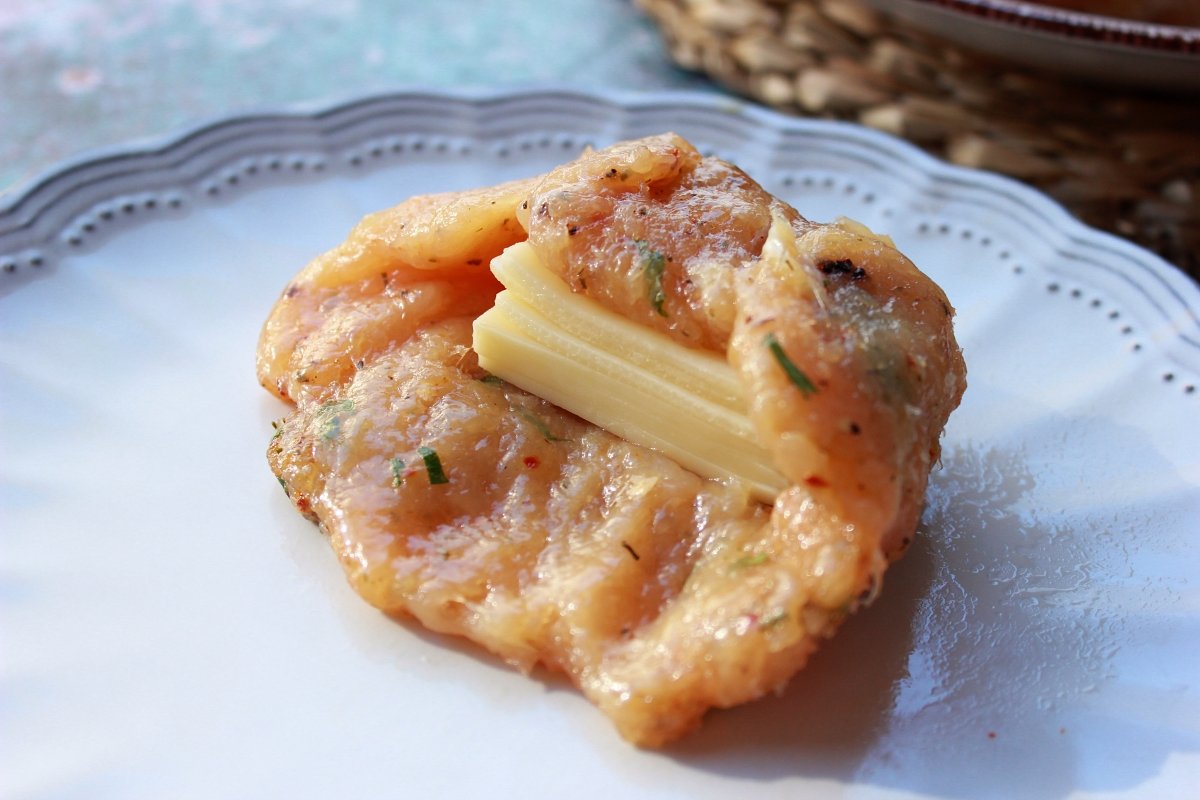 @Latoneira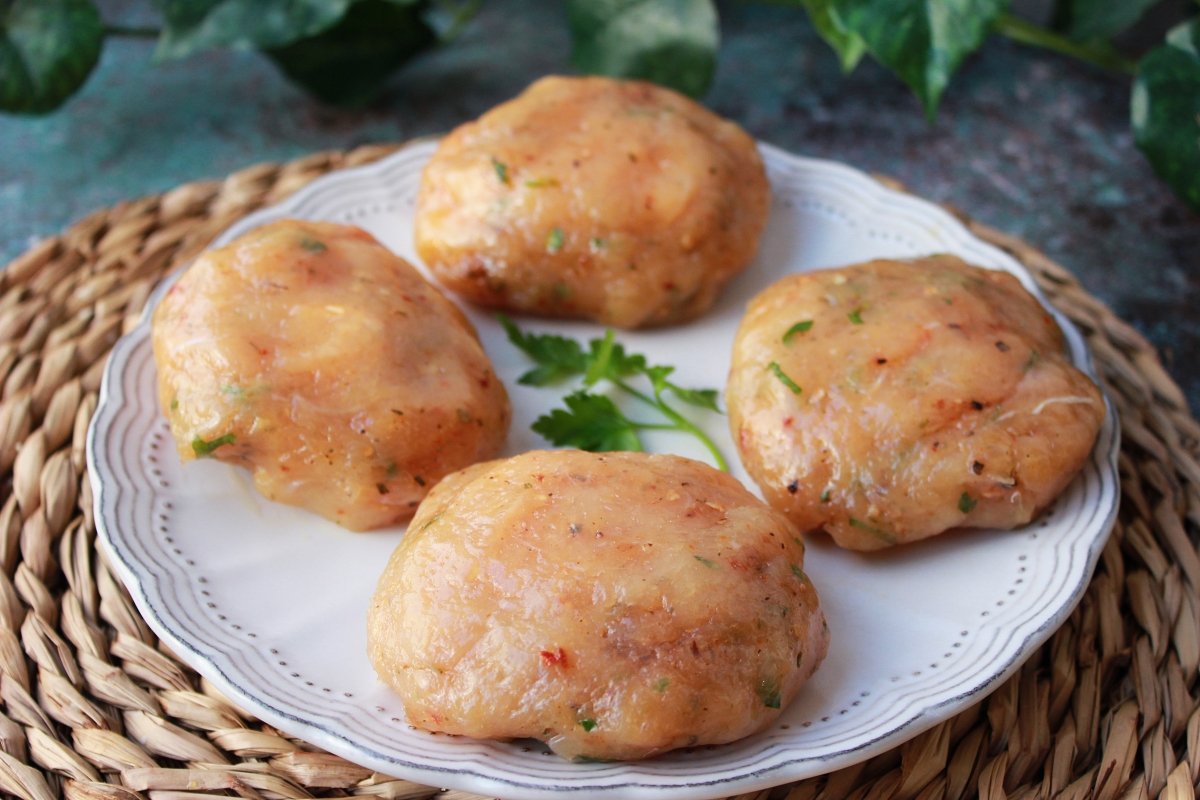 @Latoneira
Grease a griddle or frying pan with 10 ml of extra virgin olive oil and, over high heat, brown 4 hamburgers on both sides. To cook them evenly, it is necessary to cover the pot with a lid during cooking.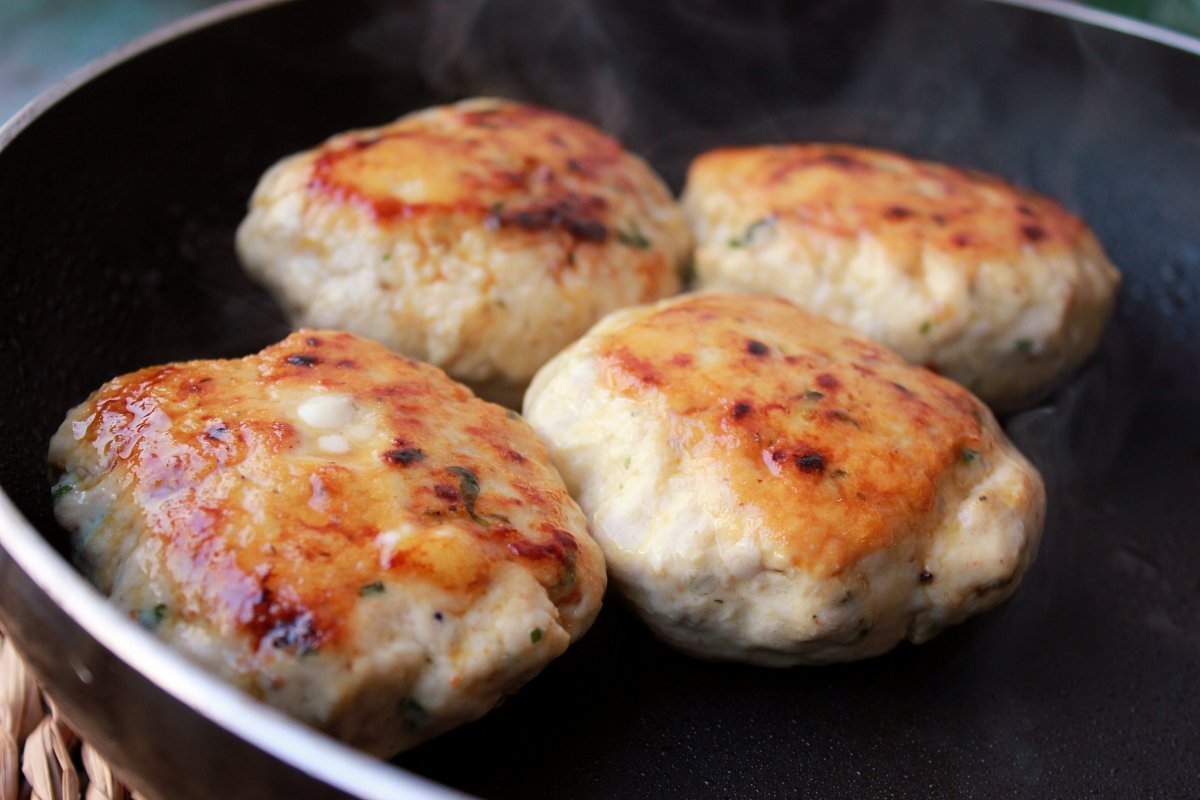 @Latoneira
When the burgers are done, season to taste and put them on a plate. We can accompany them with chips and sauce to taste. I opted for the ranchera sauce. Enjoy them!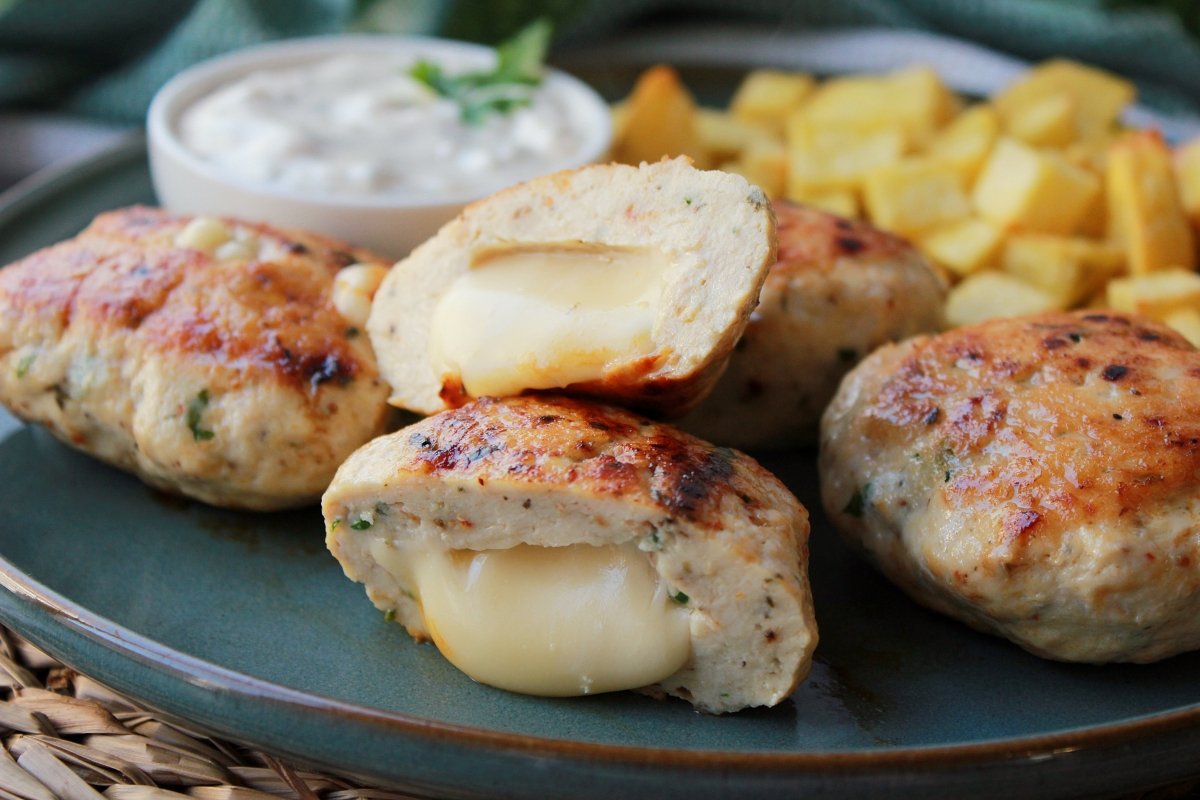 @Latoneira
Easy Planning Process
Season the minced chicken with sweet paprika, dehydrated onion, granulated garlic and chopped thyme. Add chopped fresh parsley

Mix the ingredients together and form four equal balls

Layer the slices of gouda cheese and divide them to get four tacos

Wrap the cheese taco with a disc of meat to give it a flattened shape

Oil a pan and cook the chicken burgers on both sides, covering the pan throughout cooking.

Season the hamburgers with salt and pepper and serve them, optionally, with French fries