Talk about burgers not to talk about fast food. Popular culture has us thinking that the best pairing for a hamburger is beer. But that does not mean that we can accompany the snacks with a glass of wine, if we want to. Wine and meat work perfectly. Not only for an organoleptic problem, but because alcohol helps digest fat. Something that beer fails to do.
Beer makes us heavy because it gives us a feeling of satisfaction that, in addition to what we will surely have after eating a hamburger, can become too much. Wine, however, is digested better.
When it comes to wines and hamburgers, we don't have to look for the best pairing, but rather take into account the ingredients to choose the bottle that best enhances them. We give you some ideas.
Beef and red wine burger
Although it is minced, it is still meat, and if we are dealing with a beef burger from animals such as Wagyu or Black Angus, we cannot risk with the pairing. The idea is to choose a red wine with style, Crianza or Reserva from Rioja, Mencía from Bierzo or Toro classic can be good friends. The body of this red will not be affected by the weight of the meat, and the help of wood will add fresh smoke and balsamic nuances to every bite.
Food Pairing: Wagyu and Black Angus burger with tomato too Old Vines 2017 From Dominio de Tares, the winery's commitment to Mencía Berciana. A very gastronomic red, perfect for meat recipes. Pure expression of terroir where vineyards over 60 years grow.
Spiced burger and sherry wine
If we have in hand a hamburger made with spiced meat or a very seasoned sauce, even with a touch of spice, our best friend will be a variety of wine, able to hold its own against the power of flavours. For this, it is best to go for Sherry wines. An amontillado, even an oloroso if we want a little rock and roll, would be perfect.
Food Pairing: Sloppy Joe burger with spiced bolognese too the slingshot, Osborne amontillado en rama. With more than 20 years of average age, all of the sharp nuances typical of classic amontillado, but with excellent expression. To start drinking before putting your teeth into the hamburger, and continue once.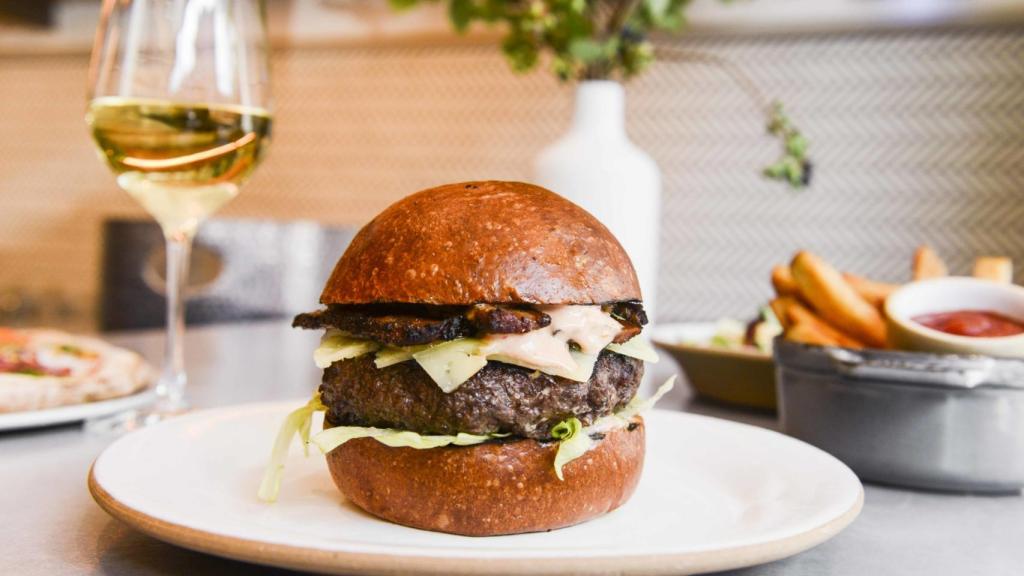 Chicken burger with white wine with barrel
Chicken meat, such as chicken or turkey, is a good alternative to red meat when it comes to hamburgers. The so-called white meat is flexible in terms of pairing. So, we can forget about the classic red wine, because there is something white that will surprise us. The barrel-fermented white, with lees work or a golden wine from Rueda, one of the best kept secrets of the appellation. It all depends on the ingredients.
Food Pairing: Turkey burger with apricot and bacon and pretzel bread included the view, the most gastronomic ribeiro of the Eduardo Peña winery. A white wine that spends 5 months in 300-liter oak barrels, where it enters for a while and softens with its fabric, to achieve its characteristic aromatic intensity, unctuousness and structure in the hole mouth
Vegetable burger with young white wine
The healthiest option when we don't want to give up the pleasure of a delicious hamburger is to choose carefully what we eat with the meat. There are endless more or less green ingredients that we can put on bread with similar benefits. Although we are not vegetarians, there is a burger for every appetite. And also alcohol. In this case, an aromatic and fruity young white, with little alcohol and controlled tannins, can go with no question about the idea that we want to put in our creation.
Food Pairing: Brooklyn Town burger with avocado and melted cheese too Castle of Medina Sauvignon Blanca unique, new and interesting monovarietal, made from French varieties that are well adapted to the soil and climate of DO Rueda.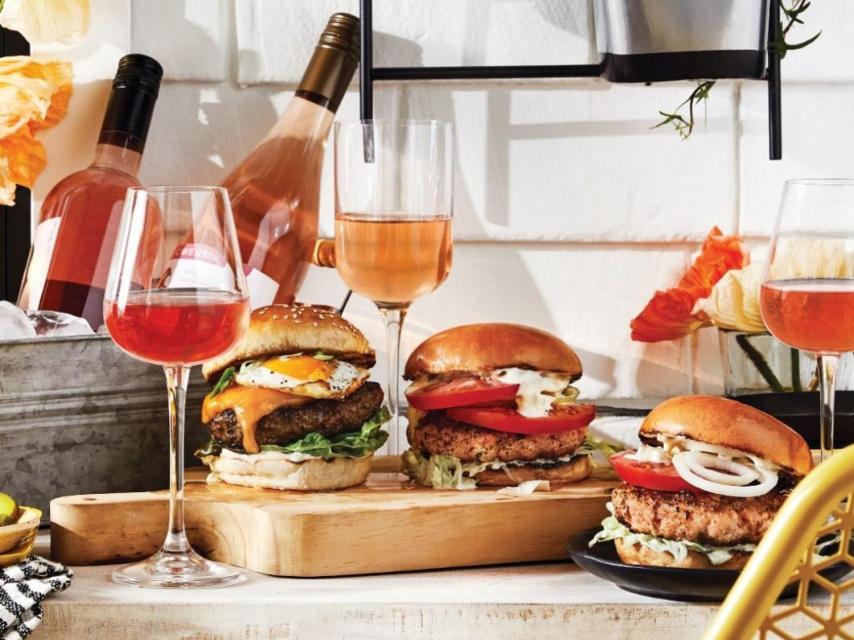 Fish burger with rose wine
It is not an aberration. Fish burgers are true and a delicacy. We can make entrepanes of sea bass, hake, salmon or other fish like it is meat. Cut or breaded. In addition, it can be very effective to use small pieces of seafood and fish and even trick children into eating it. For adults, the fish burger can be reached with a glass of rosé. King wine to improve all kinds of seafood.
Food Pairing: Salmon burger with light yogurt sauce and Pavina Rosé Pinot Noir, the queen of hearts from Alta Pavina Valladolid winery, expert in French red variety. Fresh, smooth and dangerously easy to drink. We recommend having a second bottle on hand.
Vegan burger with young red wine
Pairing a hamburger without meat is also possible. If we don't want it to be too dangerous, we can go with the greens of the ingredients with red grapes and grapes, Syrah, Grenache, carbonic maceration wine … It's about the tannins do not bother us and, incidentally, let us reduce a little alcohol strength. And if we want to be clear in the glass, why not opt ​​for the vegan label?
Food Pairing: Chickpea burger included Canvas Grenachea fresh and delicious red that brings fruit and pleasure in the mouth, ecological and vegan, with a groundbreaking design and close to the world of art, which shows that the Canned wines are more than a fashion.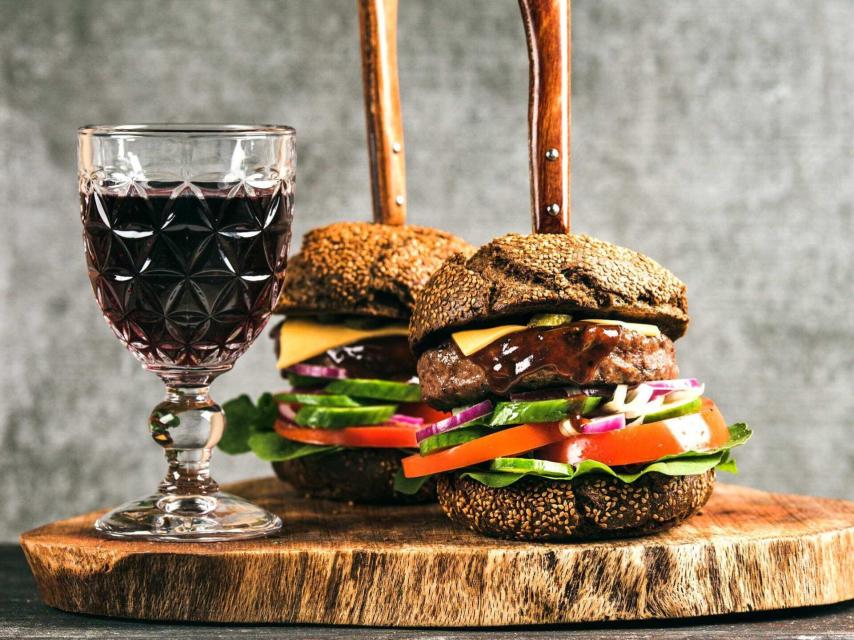 Burger with caramelized and bubbles
The difference between sweet and salty in hamburgers is a game that is very common, and there are as many supporters as opponents. If you are one of those who always ask for meat with a choice of caramelized onions, jam or mustard and honey, your product is sparkling wine. An off-dry cava, Moscato, good lambrusco or red champagne will end the mix of salty and sweet on your favorite burger.
Food Pairing: Wagyu burger with hoisin sauce and caramelized vegetables with fresh Brut Rose A. Conesa 58 of the Conesa Family – Pago Guijoso (Albacete). A floral, organic and vegan, with notes of red fruit and hints of pastry on the nose, and creamy, fresh and long mouth. Ideal for lovers of compete salty.
Follow the topics that interest you